Older Americans may be of the mindset that "age 60 is the new 40." But that doesn't mean they shouldn't be vigilant about their physical and psychological health during the COVID-19 pandemic.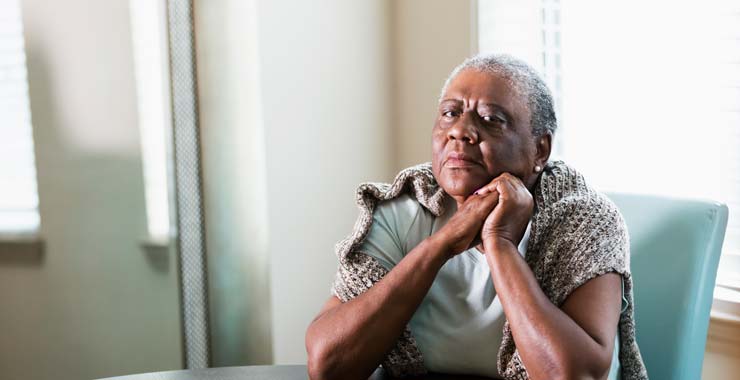 Adults 65 and older are more likely than other groups to die or develop a severe illness if they contract the coronavirus, according to the U.S. Centers for Disease Control and Prevention (CDC), making it especially important for them to stay at home and avoid close contact with others. But most people over 65 are active, living in the community, and in good physical and psychological health — which is why they often don't consider themselves "vulnerable" and may be reluctant to self-isolate.
"These are folks that don't think of themselves as being 'old,'" says Nancy Molitor, PhD, a clinical psychologist based in Chicago who primarily treats adults over 60. "And now suddenly, they're in a position where they have to confront their own mortality."
Molitor says many of her patients rely on meet-up groups — such as book clubs or walking partners — to avoid spending too much time alone. Even before the COVID-19 crisis, 43% of those over age 60 reported suffering from subjective feelings of isolation — and research shows that those feelings can lead to both mental and physical health problems (The Health and Medical Dimensions of Social Isolation and Loneliness in Older Adults, The National Academies Press, 2020).
"Older adults are more likely to be socially isolated to begin with, so self-isolation orders can exacerbate the challenges for this population that's already at risk," says Deborah DiGilio, director of APA's office on aging.
DiGilio also emphasizes that adults over 65 are a diverse and heterogeneous group. Age, health status and a number of other factors can shape a person's needs, risks and ability to engage with various coping strategies during the crisis.
Fortunately, psychological literature gives us a general idea of what risks this group will face and how they can cope — as well as how friends, family and community members can help provide essential support.
Protecting mental health
Loneliness can occur across the life cycle and is not unique to older adults. For people of any age, shelter-in-place orders may cause those who are socially isolated to experience elevated anxiety and depressive symptoms. Loneliness can also impact physical health, including by raising blood pressure, lowering immune function and ultimately increasing the risk of mortality (Hawkley, L.C. & Cacioppo, J.T., Annals of Behavioral Medicine, Vol. 40, No. 2, 2010; Ong, A.D., et al., Gerontology, Vol. 62, No. 4, 2016).
"I'm particularly worried about older folks who live alone and don't have adult children nearby," Molitor says. "That population is very vulnerable to anxiety, depression and other negative consequences of loneliness."
Even older adults who live near family members may be isolated from younger relatives who hope to protect them by staying away.
And the psychological risks seniors face can vary considerably from one person to the next depending on age, health status, living situation, finances and social support networks, says Karen Rook, PhD, distinguished professor emerita of psychological science at the University of California, Irvine.
Older adults may be worrying about their own health, the health and well-being of family members or pets, obtaining food and supplies they need, financial resources, elder abuse scams, and how their family will be affected if they fall ill or die.
For those seeing a psychologist, they may have the option for telepsychology, but they may not feel comfortable using telehealth, resulting in an interruption in care at a time when they are particularly vulnerable. Others may not have the resources to do so. For instance, many clients of Jameca Falconer, PhD, a clinical psychologist based in St. Louis, do not own a computer, tablet or smartphone.
"For my patients, there's the intersection of age, race and class," she says. "We don't think about that when we tell people to stay at home and do everything online."
Some of Falconer's patients are reluctant to use online services. Instead, they do things like pay their bills by hand-delivering checks to utility companies. She says it's important to consider the needs of a range of demographic groups when setting expectations for managing the pandemic.
Embracing healthy habits
Older adults can cope with self-isolation first and foremost by following the standard CDC advice for managing stress around the outbreak. That includes exercising regularly, eating well, avoiding alcohol and drugs, limiting news consumption, and keeping busy with solitary activities such as reading or walking outdoors.
For those who live alone, maintaining interpersonal connections and creating a new routine around social support is particularly important, psychologists say.
"I encourage my clients to make a list of friends, family, neighbors and medical professionals and to be proactive about reaching out if they start to feel anxious, depressed or unwell," Molitor says.
Technologically-equipped older adults should try to use video calling platforms, such as Skype and FaceTime, whenever possible. Children, grandchildren and friends can help by initiating contact by phone or electronic media and sharing photos, family videos or links to engaging online material, such as virtual tours of museums, Rook suggests.
"This is a time, too, when family members can convey appreciation for all that the older person has meant to them during the course of their lives, if doing so feels authentic," she says.
That might include thanking older relatives for the love and support they provide as a way to remind them that they are valuable members of the family. Younger family members might also ask an older adult for advice — for instance a tip on a favorite family recipe — or request a retelling of a story about their life.
"Older people, like middle-aged and younger adults, want to feel that they can contribute to others," Rook says.
Practical assistance — such as ordering groceries or prepared food and arranging for prescriptions to be delivered — can be essential, especially for people like Falconer's patients who might not have access to online services such as Instacart.
Those without family members nearby may need to rely on other types of social support to get these needs met while shelter-in-place orders remain in effect.
"It takes a village," Molitor says. "Family and friends should certainly pitch in, but neighbors and the community are also a vital source of help at the moment."
source: https://www.apa.org/news/apa/2020/03/self-care-older-adults