Hospital group conducting clinical trials will await peer review before releasing more details

Doctor involved warns that remdesivir is no panacea, and that social distancing must be practised until there is a vaccine
A doctor who treated the first Covid-19 patient in the US, using a much-discussed antiviral medication approved for emergency use last week, said on Monday that further studies on the drug done within his hospital group have shown "early, but very promising" results.
Dr George Diaz, an infectious disease specialist at Providence Regional Medical Center in Everett, Washington, said that Providence Health & Services, which has a network of 51 hospitals on the US west coast, has been conducting a retrospective review of the hospitals' use of Gilead Sciences' experimental drug remdesivir in clinical trials.
Diaz's patient zero, a 35-year-old man who arrived in Seattle on January 15 after visiting family in Wuhan, China – where the coronavirus that causes Covid-19 emerged – was given remdesivir soon after he was admitted, confirmed to have the disease and developed pneumonia.
The patient was able to breathe without supplemental oxygen within 24 hours of the first dose and was well enough to be discharged within five days, said Diaz, prompting the Providence hospital group to run clinical trials on other cases that began to proliferate on the west coast.
"We have very preliminary results, but we also appear to be seeing mortality benefit with remdesivir use as compared to standard of care therapy," Diaz said. "So those results are early but very promising, and we are waiting a peer review before discussing further data."
The US Food and Drug Administration (FDA) last week allowed for the emergency use of remdesivir in hospitals after the preliminary results of a study by the National Institutes of Health (NIH), which showed that the medication shortened recovery times by 31 per cent, or about four days on average, for hospitalised Covid-19 patients.
The NIH's study of 1,063 patients used a control group that received standard care to provide a clinically significant comparison. Those given the drug were able to leave the hospital in 11 days on average versus 15 days for the control group.
Remdesivir was originally developed for use in infectious viral diseases. It was not found to be as effective as hoped in human trials to treat Ebola, but had some promising results in animal trials to treat Middle East respiratory syndrome (Mers) and severe acute respiratory syndrome (Sars), two other coronavirus diseases.
Once Sars-CoV-2, the scientific name for the coronavirus that causes Covid-19, finds a way onto the human mucous membrane, it reprogrammes the ribonucleic acid (RNA) strands within the cells it attacks to produce copies of itself. Remdesivir works by mimicking one of four RNA components, so that when the coronavirus grabs a remdesivir molecule instead of the RNA component, the reproduction process is shut down.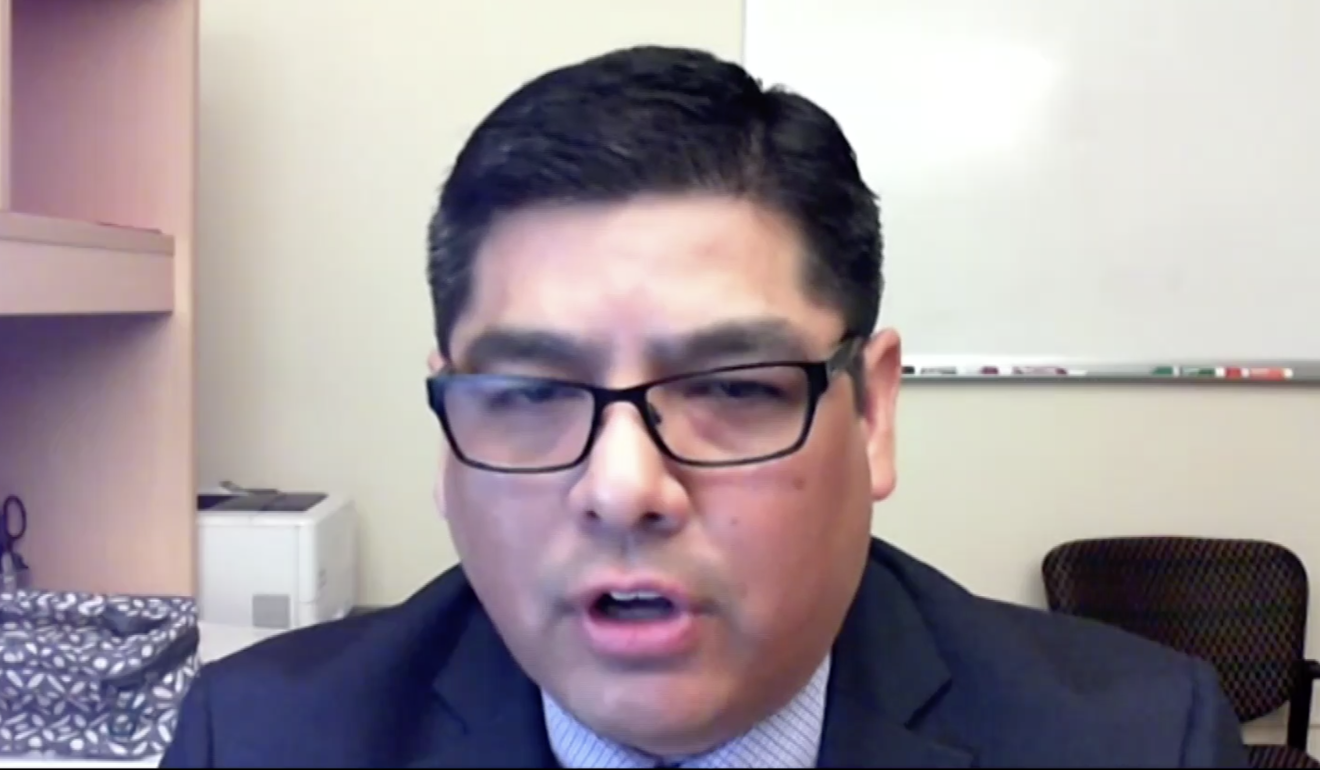 Dr George Diaz, an infectious disease specialist at Providence Regional Medical Center in Everett, Washington, speaks about remdesivir on a video call on Monday.
However, Diaz cautioned that positive results for remdesivir, both in treatment at Providence hospitals and through the NIH study, will not be a panacea, nor will it allow populations around the world to end social distancing in the absence of an effective and widely available vaccine, he said.
So far, remdesivir appears to show positive results in Covid-19 patients who have developed pneumonia, he explained. "So we need to be very careful in how we use this medication and use it very wisely because widespread inappropriate use could potentially result the development of resistance to the antiviral," he said.
"It appears that we do have an agent … against covid, but we have to use it very wisely," Diaz said. "This should not be used as a crutch to for patients to say, 'well, I can now do whatever I want because we have the treatment.'
"Social distancing … is the most effective treatment we have for Covid-19 at this point."
The CEO of Gilead Sciences, Daniel O'Day, told CBS' Face the Nation on Sunday that his company was working with US government authorities to get more of the medication to hard-hit areas of the US by the end of this week.