coronavirus pandemic seem to feature one thing: plastic.
All of the defining images of the 
Surgical masks, gloves, protective equipment, body bags — the Covid-19 crisis has spurred a rapid expansion in the production of desperately-needed plastic products, with governments racing to boost their stockpiles and regular citizens clamoring for their share of supplies.
Such production is necessary. But all that plastic ends up somewhere — and environmental campaigners fear it is just the tip of a looming iceberg, with the pandemic causing a number of serious challenges to their efforts to reduce plastic pollution.
From people discarding plastic gloves and masks in cities across the world to important regulations on the use of plastic being scrapped, rolled back or delayed, the problem has taken a back seat during one of the most significant public health crises of modern times.
The implications of those trends could spell years of trouble for our already polluted oceans.
"We know that plastic pollution is a global problem — it existed before the pandemic," Nick Mallos of US-based NGO Ocean Conservancy tells CNN. "(But) we've seen a lot of industry efforts to roll back some of the great progress that's been made.
"We need to be quite cautious about where we go, post-pandemic," Mallos adds.
PPE adding to oceans' plastic burden
And while the moves are important from a public health perspective, one immediate impact is clear on streets around the world.
"Right outside my house there are discarded gloves and masks all over the neighborhood," says John Hocevar, oceans campaign director at Greenpeace USA.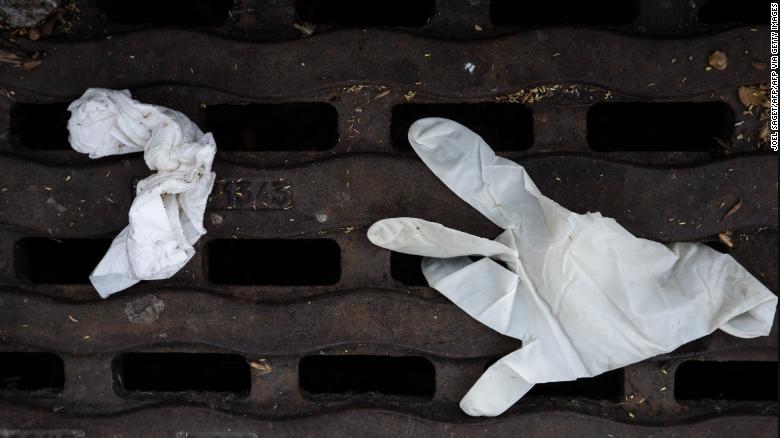 Discarded masks and gloves have become a common sight in cities around the world.
"It's been raining here for two days, so these are very quickly washed down into the sewer. Here in Washington DC, they end up in the Anacostia River, out in the Chesapeake Bay, and then the Atlantic Ocean."
But PPE presents very unique problems. "The structure of PPE will make it particularly hazardous for marine life," says Hocevar. "Gloves, like plastic bags, can appear to be jellyfish or other types of foods for sea turtles, for example. The straps on masks can present entangling hazards."
Over time, those products break down and add to the vast collections of microplastics in our seas, air and food. And the irony is that, while we produce and discard plastic to fight one public health crisis, we may be slowly contributing to another.