On Thursday 12 March, everyday life remained relatively normal across the UK. The back pages of the newspapers were dominated by the victory of Atletico Madrid over Liverpool – 50,000 fans had crammed into Anfield stadium.
Throughout that day shoppers shopped, while millions drove to work or poured out of trains into city centres.
And in the evening, people went out.
At Wembley Arena, Lewis Capaldi sang to an audience of 12,000 fans – having urged them to bring hand sanitiser with them. Around the UK people headed for events big and small.
But these were not normal times. A new coronavirus was spreading across the globe.
On that day, Italy was shutting all non-essential shops and the Republic of Ireland announced that schools would close.
But looking back, the question that will always be asked is – did the UK go into lockdown too slowly? Should those crowds have been out that day?
The World Health Organization (WHO) had been asking countries to do everything they could to contain the infection since late February.
And some countries were scaling up test and trace to try to suppress the virus.
But on 12 March, the UK had all but abandoned community testing to focus on those sick enough to be admitted to hospital. At the time, there were 590 known cases of coronavirus in the UK – more than four times the number in the previous week.
The government announced it was moving out of the "contain" phase into the "delay" phase. The risk level was raised to high, and anyone with symptoms was asked to self-isolate for a week.
The lockdown was yet to start.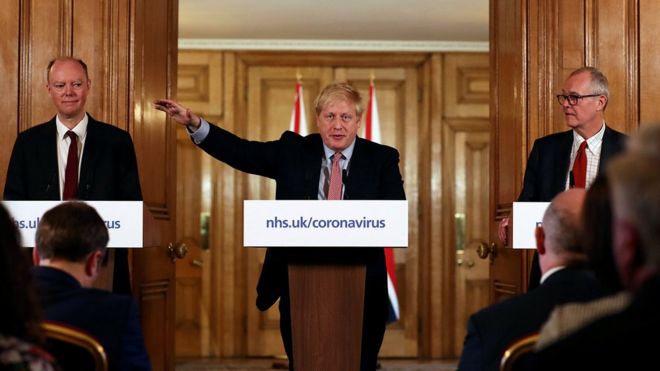 At a press conference Prime Minister Boris Johnson, his chief scientific adviser Sir Patrick Vallance and chief medical officer Prof Chris Whitty explained the policy to keep schools open and to allow major public events to go ahead.
Johnson said that according to scientific advice, banning major public events would have little effect on the spread of the disease.
Prof Whitty argued that beginning social distancing measures "too early" would risk people becoming tired of them and public compliance waning.
And Sir Patrick began to talk about the concept of herd immunity. Speaking about the coronavirus he said: "It's not possible to stop everybody getting it and it's also actually not desirable because you want some immunity in the population. We need immunity to protect ourselves from this in the future."
Mr Johnson reiterated that people should remember to wash their hands.
The next day tens of thousands of people poured into Cheltenham Racecourse to watch the Gold Cup.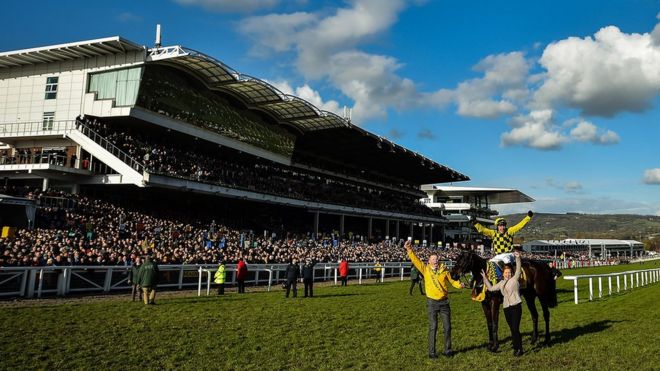 Sir Patrick was on BBC Radio 4's Today programme. He said the thinking behind the government's approach was to try to "reduce the peak", and because most people would only get a "mild illness", to "build up some degree of herd immunity… so that more people are immune to this disease and we reduce the transmission".
At the same time, he said, the vulnerable would need to be protected from the virus.
In response to a question asking whether it would be a "good thing" to allow the disease to spread widely now, rather than later, Sir Patrick replied he didn't want high numbers of infections over a short period of time, overwhelming the NHS.
"So that's the flattening of the peak. You can't stop it, so that you should end up with a broader peak, during which time you would anticipate that more people will get immunity to this and that in itself then becomes a protective part of this process."
He said previous epidemics had shown that measures to strongly suppress the virus risked it bouncing back when they were ended.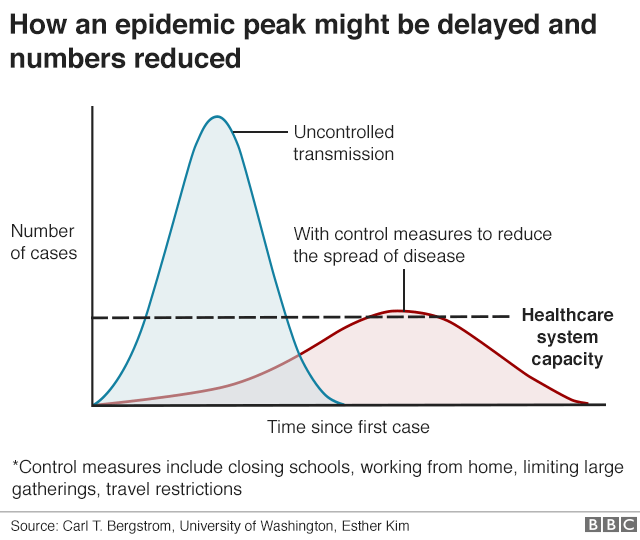 Herd immunity
"Herd immunity" is a concept describing the point at which a population has developed protection against a disease.
There are two ways to do this. Vaccination is one route. But with any new virus it's impossible to say how long it will take to develop a vaccine, if ever.
The other way is for people to catch the disease and build up some form of immunity. If exposed to the virus again, it is assumed they have protection. If most people in a population are protected then the virus cannot spread.
But there are two problems. One is that with a new virus – like this particular coronavirus – it's not always clear how much protection having had the disease, particularly a mild case, gives you or how long it lasts.
And if most of the population catches the disease, many thousands might die.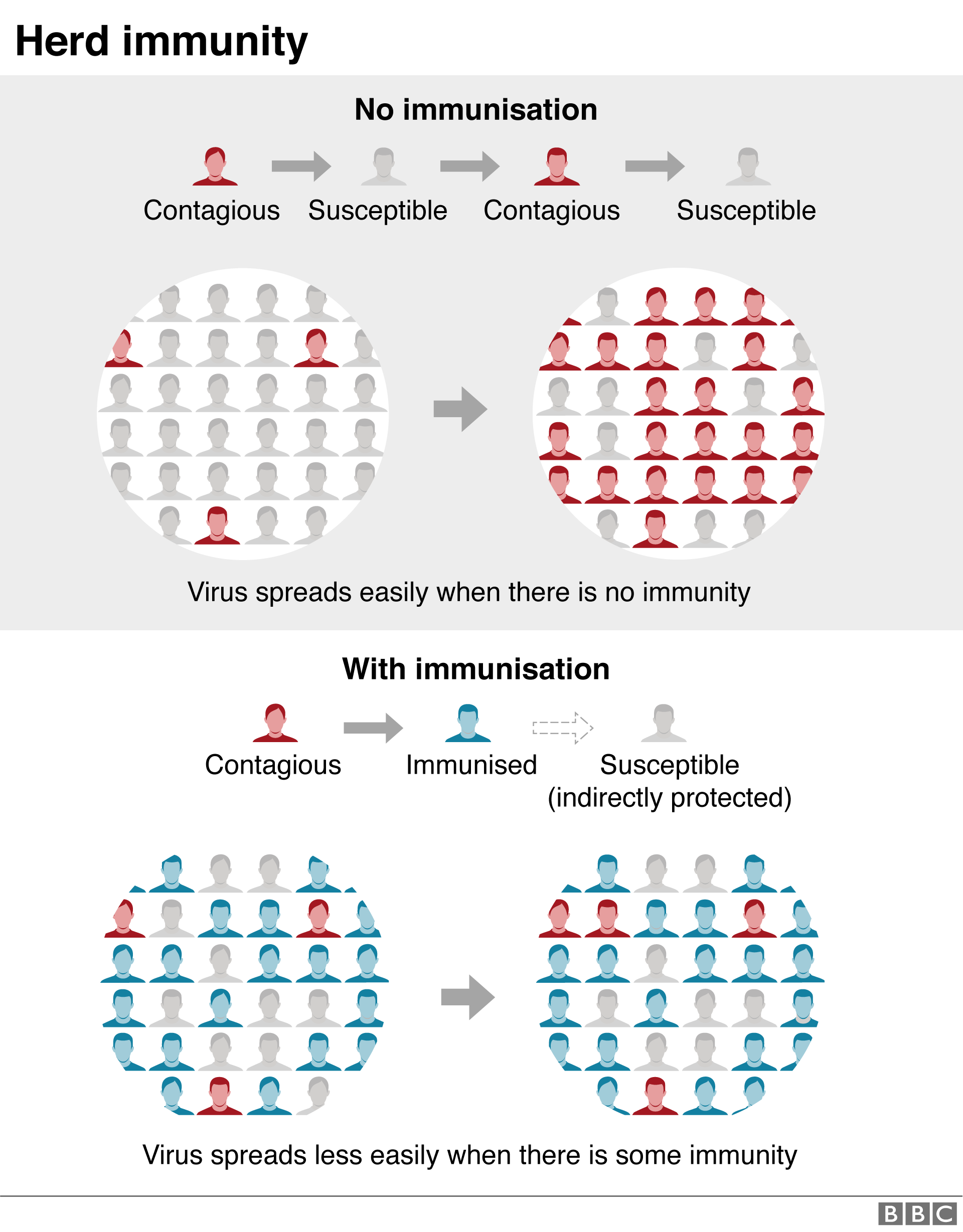 On 13 March, Sir Patrick stated that about 60% of the population would need to become infected for society to have "herd immunity" – effectively some 40 million people in the UK.
"Communities will become immune to it and that's going to be an important part of controlling this longer term," he told Sky News.
These comments sparked an immediate backlash.
Anthony Costello, professor of health and sustainable development at University College London and a former director of maternal and child health at the WHO, tweeted: "Is it ethical to adopt a policy that threatens immediate casualties on the basis of an uncertain future benefit?"
And Dr Margaret Harris from the WHO told the BBC's Today programme on 14 March: "We don't know enough about the science of this virus. We can talk theories, but at the moment we are really facing a situation where we have got to look at action."
That day, more than 200 scientists – ranging from experts in mathematics to genetics – signed an open letter to the government urging it to introduce tougher measures to tackle the spread of Covid-19.
"We consider the social distancing measures taken as of today as insufficient, and we believe that additional and more restrictive measures should be taken immediately."
'Heart of the health service'
The government tried to play down the words that had sparked the furore.
A spokesman for the Department of Health and Social Care said Sir Patrick's comments had been misinterpreted. "Herd immunity is not part of our action plan but is a natural by-product of an epidemic," he said.
That same evening, the Telegraph website published an article by the Health Secretary Matt Hancock.
"We have a plan, based on the expertise of world-leading scientists. Herd immunity is not a part of it. That is a scientific concept, not a goal or a strategy."
On Sunday 15 March, the health secretary appeared on the BBC's Andrew Marr and Sky's Sophy Ridge programmes, restating that herd immunity was not the government's policy.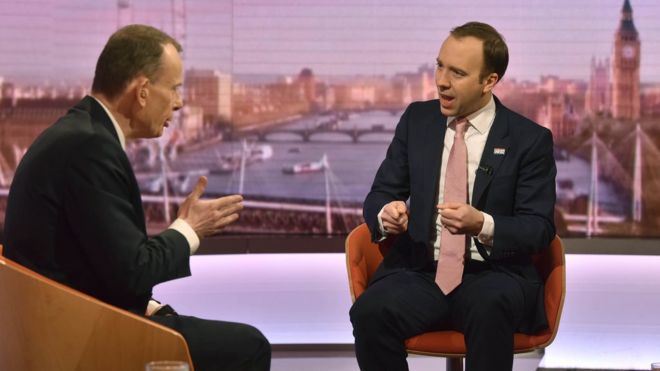 The Telegraph website said the government had appeared to "U-turn on the idea". The Express said herd immunity had been abandoned after "a huge backlash".
But despite repeated government denials, the BBC has learned that on 13 March, when Sir Patrick Vallance was outlining the government's approach to tackling the virus, herd immunity was being discussed at the heart of the health service.
From the start of the outbreak, Simon Enright, director for communications for NHS England and NHS Improvement, would offer weekly briefings to media teams in other health organisations and medical royal colleges. He and his team would share some of the latest information on strategy and thinking.
The BBC has seen contemporaneous notes from the meetings and spoken to people on the calls.
At the meeting on 13 March, Mr Enright is said to have relayed information from the government's top scientific and medical advisers.
The notes say the communications chief shared NHS England's own advice on holding internal work events, but say "we are not telling you what to do".
"We want people to be infected with Covid-19," the notes say. "The best way of managing it is herd immunity and protect the vulnerable."
Mr Enright was clear where the idea had come from, according to the notes. It was on the "direct advice" of the chief medical adviser and chief scientific adviser.
NHS England had cancelled one of its own events but only so staff could be retained to work on the coronavirus response, according to the notes.
"In other words – if you cancel events to stop people coming out of service that's fine, but don't cancel because of risk of infection."
NHS England says Mr Enright was paraphrasing what he had heard Vallance say on the Today programme that morning, and other comments made in the press briefings and interviews.