Controversial restrictions came into place in England this week, as a month-long lockdown ended. Areas have been placed in one of three tiers.
But how was it decided which tier was right for which area? One of the key factors is the rate of coronavirus cases among people over the age of 60.
The BBC has analysed the latest figures for areas with both the highest infection rates among the over-60s, and places where the virus is more common in older people than those younger.
In the week to 29 November Boston, in Lincolnshire, had the highest number of coronavirus cases among the over-60s, at about 564 per 100,000 people.
This was higher than the rate among people under 60, which was about 515 per 100,000 over the same period.
Among all cases, the area had the third highest infection rate in England. Lincolnshire moved into Tier 3 when the England-wide lockdown ended on Wednesday.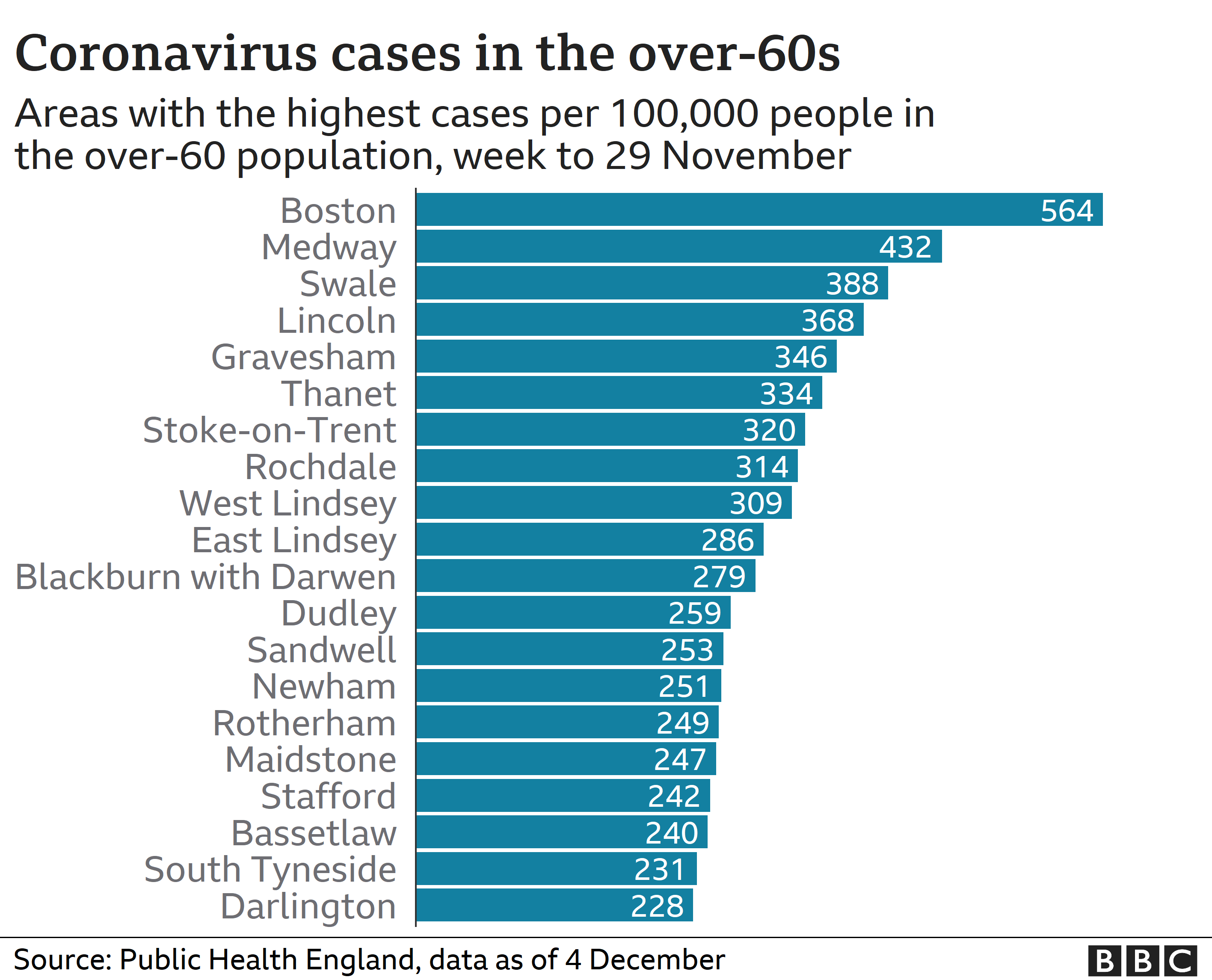 The county seeing the most areas with the highest infection rates in over-60s was Kent.
Swale, Gravesham, Thanet and Medway all had more than 300 cases per 100,000 among the over-60s, with Maidstone recording a rate of 247.
Most of the areas seeing the highest infection rates in older people have even higher rates in those under 60.
However, there have been some places where the opposite was true.
East Northamptonshire had the largest gap between its infection rates among older and younger people.
The rate in older people in the week to 28 November was about 207 cases per 100,000 people, nearly double the rate in under-60s of about 106.
How does the virus spread across age groups?
It is hard to say what causes the virus to spread from one age group to another, as causes can be unique to different parts of the country.
Officials said outbreaks in care homes could account for some spikes in older populations but community transmission has also played a large role.
The virus has been said to move from younger people to older more often. This could be partly explained by the high number of people over 60 receiving care from those in younger age groups.
However, public health teams said the current figures broadly reflected infections acquired as England entered the second national lockdown and could have been a result of last-minute excursions before venues such as pubs and non-essential shops closed.
Why is the government concerned about cases in older people?
The NHS has said although coronavirus can make anyone seriously ill, the risk would increase as patients were older.
Older people tend to have more underlying health conditions, or have received treatment that could make them vulnerable.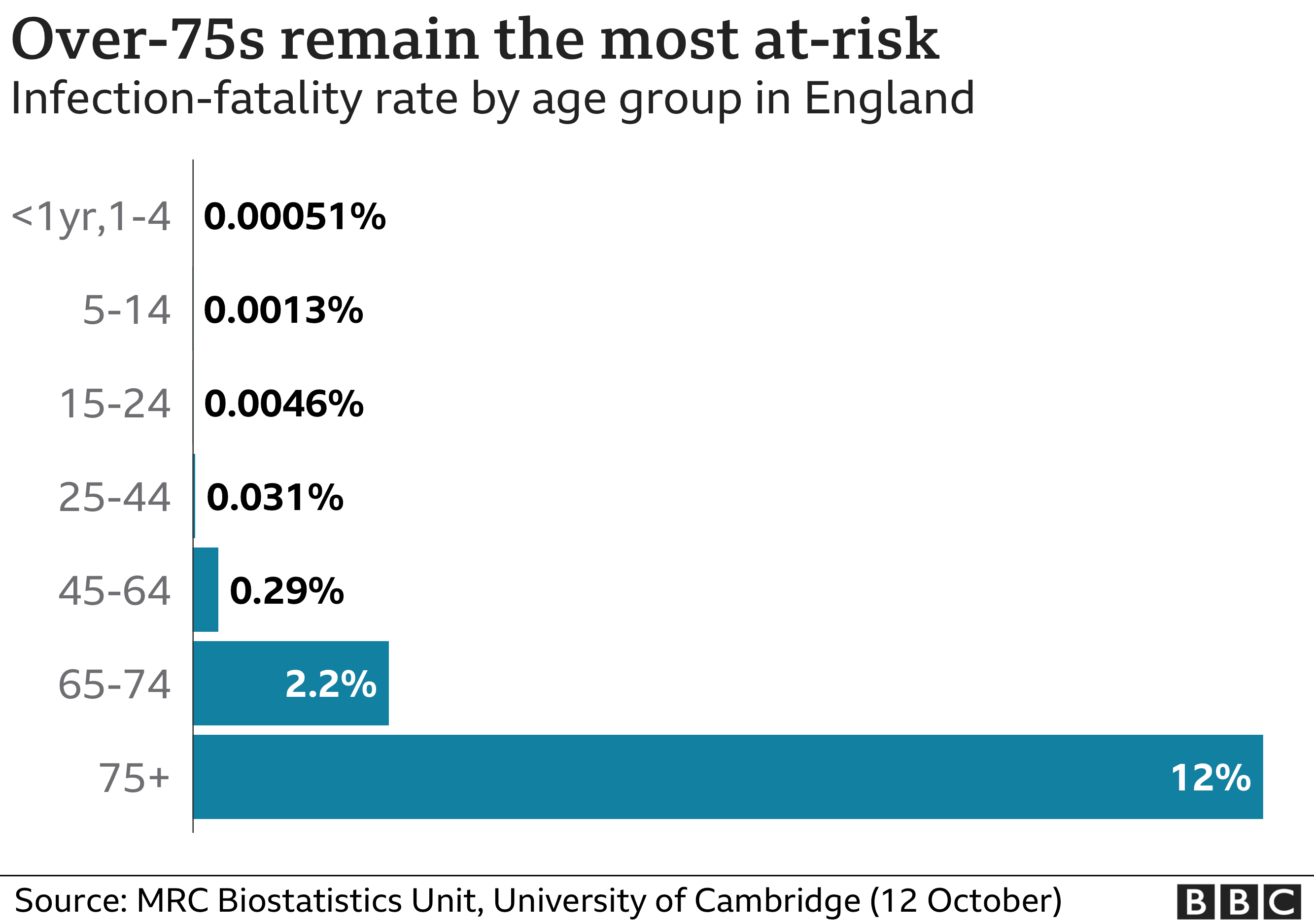 Officials have also voiced concerns about the potential impact on hospital capacity if cases rose among the over-60s.
Since the pandemic began many hospitals have had fewer beds available for patients, because of extra safety precautious taken to limit the spread of the virus. In many facilities treatment has been divided into Covid-19 and non-Covid-19 zones.
Higher numbers of cases among older people in particular would usually mean increased critical care admissions.
The knock-on effect of this would be to further reduce hospital capacity to treat non-Covid-19 patients, as hospitals adjusted to cope with the additional strain.
The government's recent coronavirus impact assessment said if the NHS in a part of the country were to be overwhelmed – if an area had more patients that needed critical care than it had capacity for – this could result in deaths that may have been prevented, had there been fewer patients.
How has this affected the tiers system?
The government has said it looked at several criteria when deciding on what tiers to put each part of England in following the second national lockdown:
Total number of Covid-19 cases in an area
The number of cases among over-60s
The rate at which cases were rising or falling
The proportion of test results coming back positive
Pressure on the NHS
In its assessment of each area it outlined places where it was concerned about the number of infections among older people.
Of the 46 county and wider areas used to assign tiers, 23 were highlighted as having "high" or "very high" case rates in the over-60s.
It based its research on figures covering the two weeks up to 19 November.
Can I see older friends or relatives at Christmas?
Coronavirus restrictions are set to be eased around Christmas, allowing people in all tiers to mix with slightly wider circles of family and friends.
Academics have said seeing friends and family at Christmas may be a real benefit to the mental health of older people during an already difficult time.
But the UK government's chief medical adviser, Prof Chris Whitty, has warned people "have to have sense" this year and avoid hugging and kissing older relatives "if you want them to survive to be hugged again".
"It's not against the law, and that's the whole point. You can do it within the rules that are there," he said. "But it does not make sense because you could be carrying the virus."